What's happening in my Model A Engine shop?

Next couple months: 

My primary machining center is moving to a new location and will be stopping work around June 16th.  I expect them to be open and up to full speed by October 1st.  I will have 5 blocks machined and on my shelf when they stop production for the move.  If someone needs a motor between now and October, one of my stock blocks is a good option.

I will be finishing up the last three engines on my schedule and then taking a break for the summer touring season.  I will take past customer's cars or engines in if they need help but will refrain from accepting anything new until November 1.  We have a tour planned to Medora in June and an extended east coast Model A road trip planned for this fall.  I have two projects I started last year and have had no time to work on them.   After I finish the last engine, these projects will get some attention in between the road trips Jean and I have planned.

The two projects are getting road ready a '31 S/W Town Sedan and finishing a clam-shell tear drop camper.

This winter:   I will be taking in engines starting November 1 for rebuilding.  If you know you will be in need, please let me know so I can schedule your project.

Thank you to all my customers!

Photos below are of a '31 Slant Windshield Town Sedan I am building for a road trip to Alaska.  The engine in the car was damaged when I purchased the car so I installed a Robert Roof Cyclone overhead valve topped "B" engine I have been experimenting with for the last 18 months.  I don't know yet if this engine will be employed for the trip.  Road testing will determine if it is used.

Insert bearing Model A engines I have completed,

Where are they?

Minnesota:  138 Inserted bearing Model A & B engines

North Dakota: 2 Inserted engines

Iowa:  8  Model A & B Engines

Wisconsin:  9

Michigan: 1 Inserted Touring

California: 6 Inserted Engines

Louisiana:  1 inserted Engine

Texas: 1 inserted Engine

Currently working on:  3 engines

This is the very beginnings of the car and camper for the Alaska trip.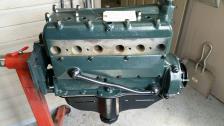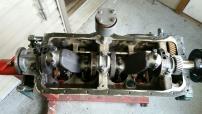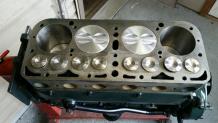 The underside of the body was very solid but too rusted to continue without protecting.

The frame was straight except for the front horn area.  A couple front crossmember rivets on the driver's side were loose or missing.  The top of the frame was slightly bulged up directly behing the crossmember.  It appears the front sustained some previous damage.  I have straightened the bulge and am repalcing the missing and loose rivets.