What's happening in my Model A Engine shop?

4/3/18

Built a shortblock this past weekend.  Helped a gent install a HC head on a pickup only to have a pin-hole in the heads casting.  Called Snyder's and they are sending out a replacement. 

4/5/18

The headliner, top panels and some of the door panels in the S/W are installed.   Was short some of the interior kit but Classtique made quick work of sending the missing parts.  I also discovered that there are parts missing from when the previous owner tore the interior out.  So far, the only thing I have not been able to locate is the correct dome light.

Insert bearing Model A engines I have completed,

Where are they?

Minnesota:  142 Inserted bearing Model A & B engines

North Dakota: 2 Inserted engines

Iowa:  8  Model A & B Engines

Wisconsin:  9

Michigan: 1 Inserted Touring

Colorado: 1 inserted Engine

California: 6 Inserted Engines

Louisiana:  1 inserted Engine

Texas: 1 inserted Engine

Currently working on:  3 engines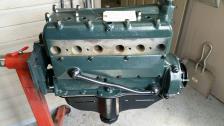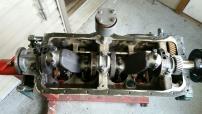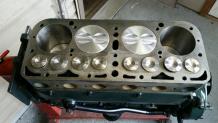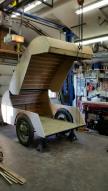 The body is on the car and we are moving towards running soon!       I am working on the interior.  More work than estimated.

                                                                                                  When I bought the car the interior was torn out and I am












                discovering a few items are missing even though I                                                                                                              purchased a new interior kit.
5/7/18

I have had the '31 S/W on the road for about 200 miles and I have developed a coolant leak.  I drained the coolant, flushed it and tried block seal with no success.  I changed the head gasket and still had a minor leak.  I also noticed an oil leak after driving about 60 mph without letting the engine oil warm up.  I have over 80# of oil pressure with a cold engine when the rpm is taken over 1500 rpm.  I pulled the engine to repair the oil leak, install an oil pressure bipass valve set to 35# and replace the head gasket again.  I will carefuully check the deck surface of the block for a low spot that causes the coolant leak.  I should have the car back on the road shortly. 

5/16/18

I checked out an "engine knock" on an engine I rebuilt about 1 year ago.  It turned out to be the water pump had excessive end play.  I installed a collar kit that is hidden between the fan and front of the water pump to solve the problem.

I also built a long block for a customer, using one of my cores, that brought his engine in for repair.  His block had some fatal cracks in the deck.  He will be picking it up this week.