What's happening in my Model A Engine shop?

Insert bearing Model A engines I have completed,

Where are they?

Minnesota:  145 Inserted bearing Model A & B engines

North Dakota: 2 Inserted engines

Iowa:  8  Model A & B Engines

Wisconsin:  9

Michigan: 1 Inserted Touring

Colorado: 1 inserted Engine

California: 6 Inserted Engines

Louisiana:  1 inserted Engine

Texas: 1 inserted Engine

Currently working on:  3 engines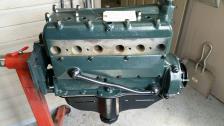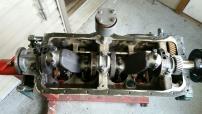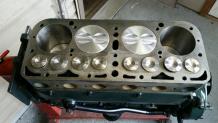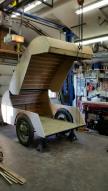 Catherine's Coupe is ready for the interior to be installed.   See photo below....

9/24.18

I spent the weekend prepping crankshafts for the grinder.  Moved the weights on two B crankshafts and drilled them for pressure oil to the rods.  Also drilled the late integral weighted 1933 Model B crankshaft from my '31 S/W.  I decided to change from dipper to pressure oil to the rods.  Photo below is from the start of the setup to remove the pins holding the swedged weights in place.  I have a dedicated fixture with "V" blocks to hold crankshafts when working on them.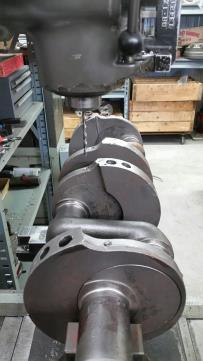 Roof Overhead Valve Head on a full pressure Model B engine.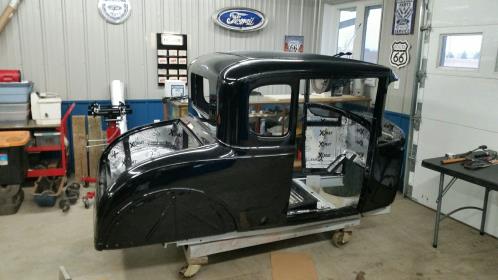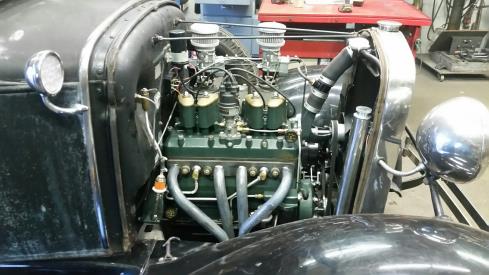 12.7.18

I will be assembling a shortblock this weekend, running an engine on the dyno and prepping a block for machining.

12.21.18

I delivered 3 blocks to the machining center a few days ago and then today delivered 8 more.  Four of these engines are customer engines and the rest are for my stock.  I recieved 3 customer blocks about a week ago and am in the process of assembly.

12.26.18

A customer picked up a shortblock today.  He traded his tired short block for one I had on the shelf.

12.28.18

Last night I installed a 6:1 Snyders head on a counterweighted touring engine I am finishing for the Jammer Coupe shown above.  I will break it in on the dyno and then Catherine will assist installing it in the restored chassis this coming Sunday.